I have three radom tulips that bloom in my yard. They somehow survived the lack of care from previous owners. They are just about on their way out, and had to snap a picture of one of them. I don't know what it is about them, but they are amazing flowers. So bold, yet so delicate at the same time.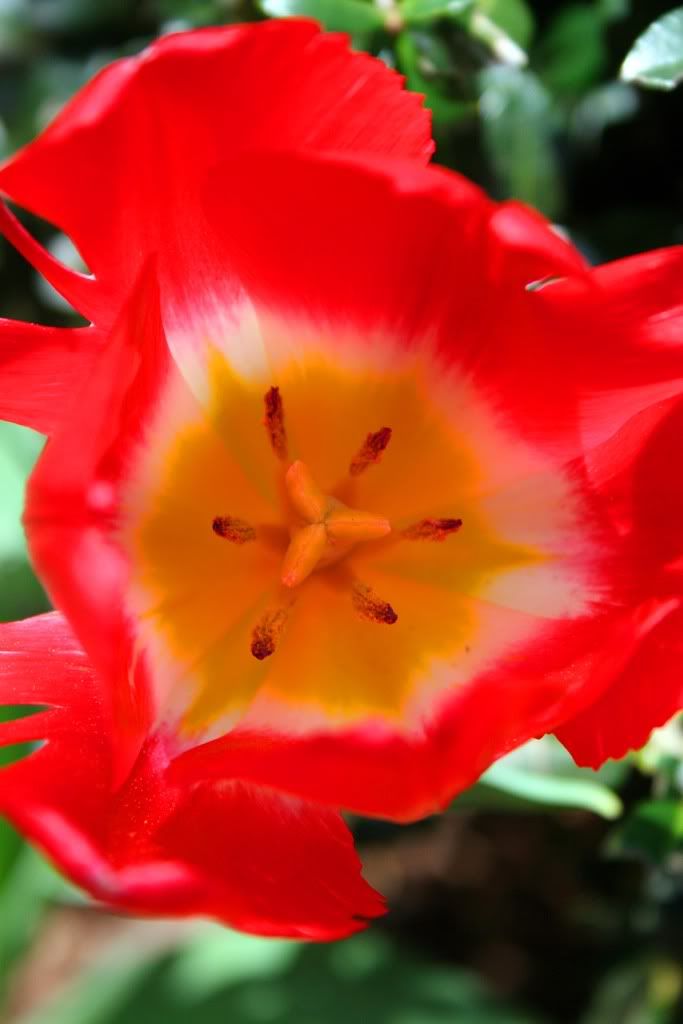 So it's probably a good thing I didn't have a computer the last couple of days. I was just in one of those spaces where I don't think I was to pleasant to talk to. Or be around (those poor kids). I was sick of everything, but had no way to get away from any of it. I ended up doing nothing all day and then staying up until about 2am, watching old Oprahs and for some reason that's all I needed. I was back at work.
I've since taken down some more forest in the front yard, painted two more rooms, changed some more door knobs (we're at 25 now!), changed the smoke detectors, changed out yet another light fixture and fixed two leaky faucets. It's been good. Really good. I also almost caught up on the bills and budget. That should probably be top priority at this point, but I thought that was easier to do while the kids were awake, so I'll paint now. I just finished the final coat on the bathroom, I may have to do the hall in my room, but I'm undecided. so I'm waiting for some more opinions before I make myself to do. If I can avoid it I will. I never thought I would say I was tired of painting. There really isn't much left in this house to paint. Just the stairs and railing, the crown molding in my room (I'm desperatly waiting for Matt to be around so I don't have to try and reach that again) and that should be it. We've then painted just about every square foot of this house. Wait, I've just about painted every square foot of this house.
I have a feeling if we move I'll jump right back into the painting again. That's just me!